Episode 1 of Mariette's On The Move, The Podcast IS UP!!!
Jan 09, 2023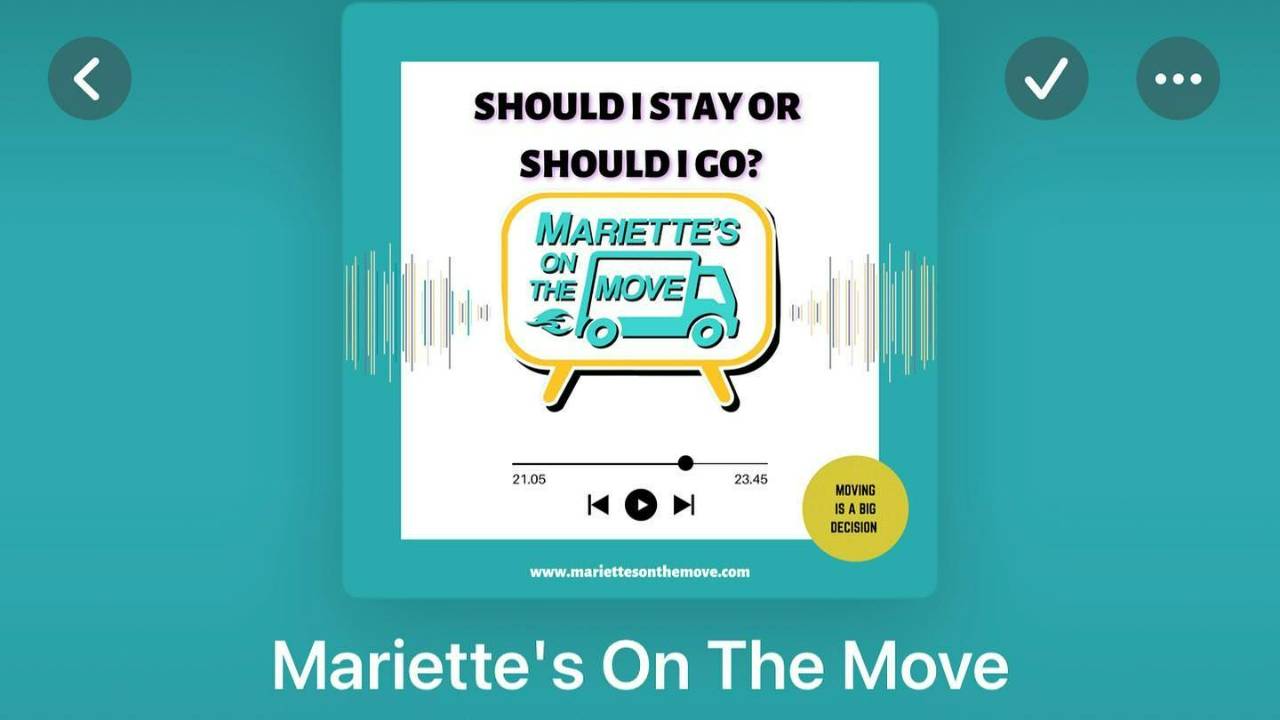 Mariette's On The Move is LAUNCHED!! This is the very first episode and I couldn't be more excited. On this episode, we talk a little about my experience in moves, my FRED Framework and how to get an earworm out of your head (read the article on Wikihow).
In the episode, I mention the songs 'No Thief Like Fear' and 'Fear is Easy, Love is Hard' off Jason Gray's "A Way To See In The Dark" album. I also reference #4 on that album, listen to it HERE, I want to surprise you with what it is though, it was my theme song for a long time. I'm hoping to convince him to be on the show today, he's got some cool stories.
I also mention my friend and Hypnotherapist, Kryssa Bowman out of Bozeman, MT. I can't wait to have her on the show too- we had an amazing conversation about all the different 'parts' of ourselves on a magical drive up to Big Sky, MT where we had a retreat with some of the loveliest people from all over the country. A few years back she made me a personalized meditation that I still use today- she's awesome. You'll love her!
Creating a life you don't want to escape from is one of the things we'll be talking about on this show. We'll be taking a granular look at how to optimize your life in your new city, thriving in your new career. What is your Higher Self telling pushing you to pursue? Is your pesky subconscious keeping you safe and grounded? Your subconscious can be a jerk- it likes to keep you safe where you are instead of having you pursue your dreams. It's not as hard as you think.
Have you heard of Podopolo? It's a brand new podcasting app that's revolutionizing podcasting through social interaction! When you download the app, put 'mariettesonthemove' in the referral code to let them know I sent you. Once you get on the app, search for the MOTM show & hit follow show me the love! You can share clips of the show on social send it to your friends in the app. Let's virtually hang out in the comments together and right now, I'm giving away the super cute Hot Pink Savvi Hat that says "Moving Forward Together" if you comment 'Hot Pink Hat' on any of the Mariette's On The Move podcast episodes on Podopolo in January! Every Friday we do a Shop The Drop, I love this athletic and athleisure wear!
Doing Dry January? Sober? Sober Curious? Want to be a more inclusive and #consideratepartyhost this year? Join the On The Mocks Community on Facebook or Instagram. Share your recipes, I'd love to see them! I recently shared a Zero Proof Gin recipe over the holidays, it was awesome! Removing alcohol from your diet, along with a great skincare routine can significantly reduce the aging process! I love the all-natural ingredients of Monat (Modern Nature) products, especially in their haircare stuff. They're the first anti-aging hair care line and I already had thin hair, I use the IR Clinical Hair Thinning Defense and will be documenting my journey, I mean, who doesn't want thicker, fuller hair in just 60 days? That goes for you too men, I see you.
If you want to keep in touch, jump on the Mariette's On The Move website and register for my FRED Freebie that gives you a few questions to start out with in every area of FRED. I'll dig into them on future episodes. Connect with me on the Mariette's On The Move LinkedIn page, on my personal page, my Instagram or my Facebook page. If you'd like to support the show, simply check out my affiliate pages linked above, by yourself some schwag and tag me on social when you open the box! Not celebrating Dry January? No problem, join my Scout & Cellar Wine Club to get some organic or biodynamic wines sourced from all over the world. Now, GET MOVING!